Recoil Pads
Prices include the pad, installation and fitting to a new semi-finished gunstock at a standard 14 1/2" LOP.

!!!!! IMPORTANT !!!
Click here for instructions on how to measure your LOP

Please specify in the shopping cart comments box the total length of pull including pad when ordering, if LOP is not specified it will be set at the standard 14 1/2" when

applicable

. Some factory stocks are not applicable for the 14 1/2" LOP and will have a shorter LOP when the pad is installed. It is up to the customer to determine their desired LOP.

Some replacement factory original type stocks will require a special order if a longer than original LOP is desired, please

contact

us for pricing and availability.

If a non standard LOP is desired on any stock please contact us for pricing, availability and approval before order is placed. Any order that is placed requesting a non standard LOP before contacting us and recieving approval, the order will be cancelled or the order will be shipped without the recoil pad installed and it will be up to the customer to install the recoil pad at the desired LOP. The recoil pads we sell are grind to fit pads. Any stock that is cut to a non standard LOP will not be returnable unless the item is defective.

When a recoil pad is ordered with a new semi-finished buttstock Gunstocks Inc. will install and fit the recoil pad to the buttstock free of charge at a 14 1/2" standard LOP, this installation will include attaching the recoil pad to the buttstock and sanding the pad and buttstock together as one unit using a coarse grit sand to obtain a generic fit and shape. It will be up to the customer or competent gunsmith to do the final and finish sanding and shaping of the wood and recoil pad to prepare the wood and pad for finishing. Instructions on how to finish sand a recoil pad can usually be found on the recoil pad manufacturers website or by contacting the recoil pad manufacturer. If the customer does not want the recoil pad installed to the stock he/she must specify so in the comments box of the shopping cart.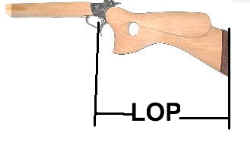 All recoil pads are grind to fit type
Pachmayr 1"

Old English style

Leather style face

Black, or Brown

( Good )

$40.00 each

Installed & fit to a

new stock

Black

No longer available

295

Brown

No longer available

296

Pachmayr 1"

Vented style White Line

Black

( Good )

$35.00 each

Installed & fit to a

new stock

Black

Pachmayr 1"

Vented style

Black or Brown

( Good )

$35.00 each

Installed & fit to a

new stock

Black

Discontinued

298

Brown

Discontinued

Pachmayr 1"

D752 DECELERATOR RECOIL PAD

Old English style

Leather style face

Black

( Better )

$45.00 each

Installed & fit to a

new stock

Black

Not available

LIMBSAVER 1"

SIMS VIBRATION LABORATORIES


Black

( Best pad )

$40.00 each

Installed & fit to a

new stock

Black

Pachmayr 1/2"

Basket weave or Stippled face

which ever is in stock at the time of order

Solid rubber pad

Black or Brown

( Good )

$35.00 each

Installed & fit to a

new stock

Black

Brown

Out of stock

305

Pachmayr 1/2"

Old English Style

Solid rubber pad

Black

( Good )

$40.00 each

Installed & fit to a

new stock

Black

Not available