Standard Winchester Cresent butt
---

Winchester recurved toe Cresent butt
---

Round or Octagon Rifle forend
---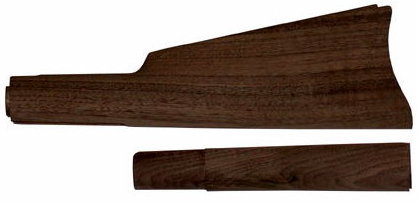 Saddle ring carbine buttstock & forend
---
Winchester model 1886 / 86
original production
Rifle Buttstocks & Forends
New reproduction standard grade american walnut semi-finished (needs final fitting to the gun, sanded and a finish put on ). Stocks are cut for the standard Winchester cresent buttplates. The forends are for the standard wincnester model 86 barrels.
Exact duplicate of original style
Click here for the Winchester standard Cresent buttplates.